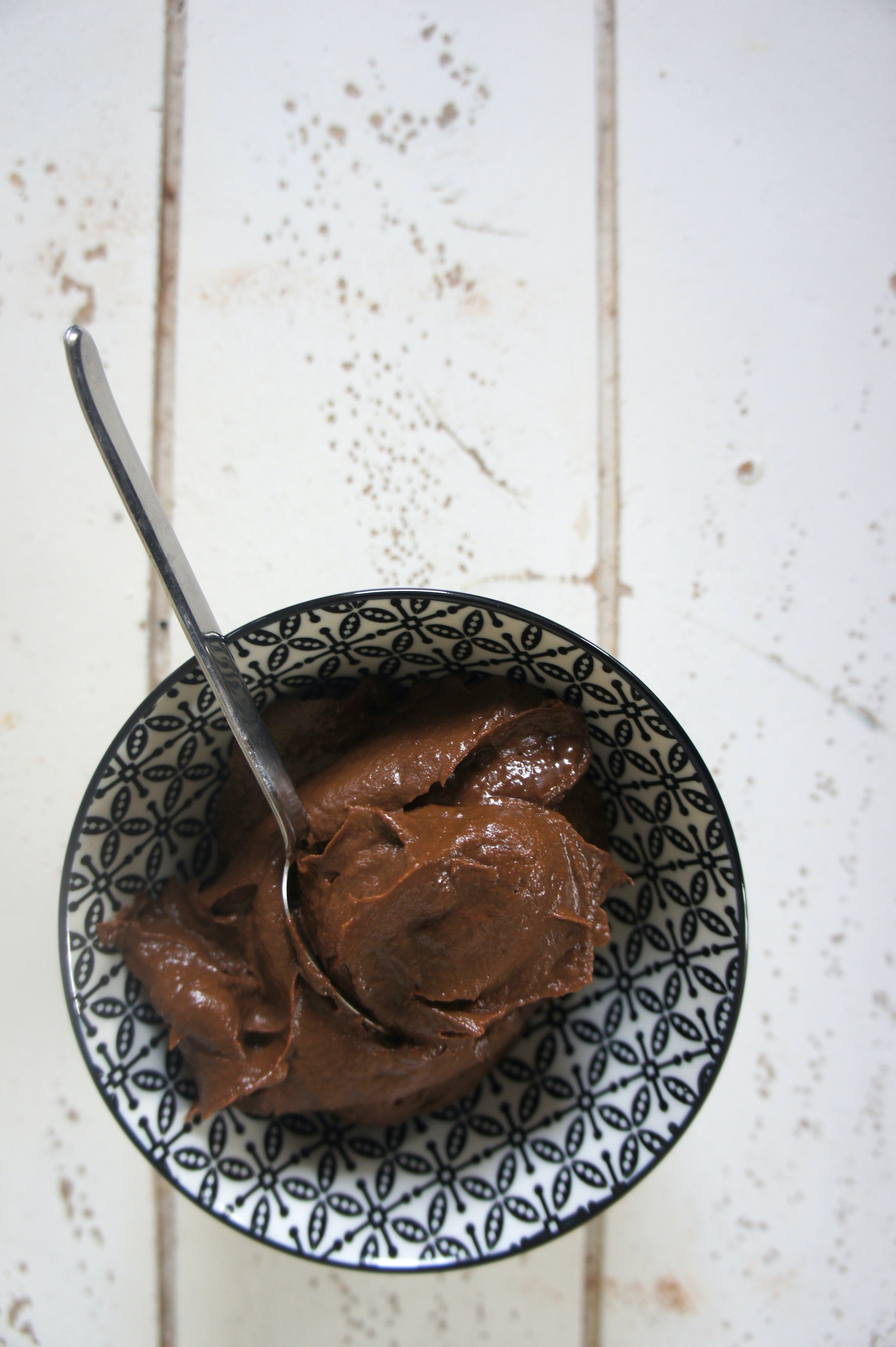 High-protein and high-calorie, Protein Chocolate Mousse is a nutritionally dense pleasure.
This is a chocolate mousse kind of treat, that has much more protein than a real chocolate mousse. But because it's based on nuts and protein powder, it is also keto-friendly. Just remember to watch your protein if you do keto, as too much protein can take you out of ketosis.
Vegan Protein: Add more water
If you work with whey concentrate or whey isolate, you can use the recipe without any modifications.
Three scoops of protein powder will seem like too much for only 80g of yoghurt, but you will find that the protein catches the water from the yoghurt pretty well and becomes creamy.
With vegan powders and vegan blends you will not get the same creamy texture as with whey.
The taste is good (different) but the powder just doesn't get creamy. Vegan powders like pea or rice don't mix as well with liquids as whey does, and you will need to add about half a cup of water to get a smooth mixture.
About PB & Tahini in this Protein Chocolate Mousse
This version of Protein Chocolate Mousse contains peanut butter, because we all love it, and also tahini.
If you are on a cut, you might skip these without altering the other ingredients.
Why is Tahini Good For You
Tahini is a paste made of sesame that is bitterish in taste, and contains heaps of antioxidants and other stuff that helps strengthen your joints.
Just by itself it might be a little too bitter, though. That's why it does best when combined with other tastes. This chocolatey cream is really sweet from the concentration of the chocolate protein, tahini brings it down a bit. Peanut butter and chocolate is a well known combo that doesn't need any introductions though.
Why is Peanut Butter Good For You
If you lift, peanut butter is just another source of protein along with vitamins, minerals and fiber. Choose organic unsalted peanut butter for the best health benefits.
The healthy fats in peanut butter are also worth a mention:
One serving (about 2 tablespoons) has 3.3 grams of saturated fat and 12.3 grams of unsaturated fat, or about 80% unsaturated fat. That puts it up there with olive oil in terms of the ratio of unsaturated to saturated fat. Peanut butter also gives you some fiber, some vitamins and minerals (including 200 milligrams of potassium), and other nutrients. Unsalted peanut butter, with 5 milligrams of sodium, has a terrific potassium-to-sodium ratio. Salted peanut butter still has about twice as much potassium as sodium. (from health.harvard.edu)
Tip: Add banana if you get swollen after gym
If you have been going really heavy or if your workout routine is new, you might notice that your big muscle groups will feel uncomfortably swollen. They might or might not hurt, but they'll be swollen. That is a slight inflammation from heavy activity.
Not everyone gets these, but if you do, replace the nut butters with sliced banana in this Protein Chocolate Mousse.
According to one study, bananas may help reduce inflammation of your strained muscles.
Either way, they will add more creamy texture and nice taste kick to this protein mix.
1 serving

10 minutes

0 minutes
Ingredients
3 scoop chocolate protein powder
80 g plain yoghurt (or soy yoghurt)
1 tablespoon peanut butter
1 tablespoon tahini
Directions
Start with measuring the yoghurt into a bowl.
Add all of the protein. Yes, it will seem to be too much.
Stir the powder into the yoghurt slowly and properly. Unless you have a protein powder that is really difficult to mix, you will see that as the powder gets stirred in it melts together. You will end up with a thick, smooth chocolate cream.
Add the peanut butter and the tahini into the mixture. You can either mix in the nut butters really well to get a smooth cream again, but it's also good to stir them in just half way and keep your chocolate cream streaky.
Eat it by the spoonful like Nutella, or use it as a high-protein chocolate spread.
More delicious recipes
This is one of the many fantastic recipes available on this blog